Image Carousel with 4 slides
A carousel is a rotating set of images. Use the previous and next buttons to change the displayed slide
A Forum for Engagement
The Forum, located on the corner of 125th Street and Broadway, is a unique community gathering space that serves as the gateway to Columbia University's developing Manhattanville campus. Open to the entire University as well as the local New York City community, The Forum is a multi-use venue that houses a state-of-the-art auditorium, meeting and event spaces, and communal work areas. 
In partnership with University faculty, staff and students, non-profit organizations, and other community groups, The Forum hosts academic lectures, conferences, performances and cultural events designed to spark conversation and civic engagement. The Forum provides an important new space where scholars and thought leaders from diverse fields can come together to share ideas, and where Columbia and the local community can engage with New York City and beyond.
Friday, January 22 | 6:00 - 7:30 PM
Life in an Age of Conflicts and Extremes | Keynote address for In Service to the New Nation: The Life & Legacy of John Jay
The Forum is proud to host Joanne B. Freeman, renowned scholar and the Class of 1954 Professor of American History and American Studies at Yale University. Her research focuses on the politics and culture of the revolutionary and early national periods, leading into the Civil War era and its aftermath. Her Keynote address will examine recent Congressional conflicts and violence through the lens of these powerful historical precedents.
A Community Gathering Space
The Forum's ground floor Atrium is a gathering space open to the public seven days a week from 8:00 a.m. to 8:00 p.m. (except University holidays).* With ample seating, tech tables for charging devices, and free WiFi, the Atrium is ideal for those needing a quiet place to work, study, or meet a friend over a cup of coffee. 
Throughout the year, The Forum joins with other Manhattanville-based Columbia departments to host Community Days, which fill the campus and The Forum with a diverse selection of family-oriented programs for Columbia neighbors. 
*Please note that due to the Covid-19 pandemic, the Atrium is currently closed to the public.
Host Your Next Meeting or Event at The Forum
The Forum rental spaces include a conference auditorium, with a capacity of 438 people; an adjoining foyer, which can accommodate up to 176 people; and five meeting rooms, ranging in size from a small conference room for 10 to a large meeting room that holds up to 55 people in a theater-style setup. Each of these rooms, with the exception of the foyer, includes state-of-the-art technology.
In booking events at The Forum, priority is given to events that foster Columbia's research, educational, and community-building initiatives. 
Prior to submitting a request for space at The Forum, please familiarize yourself with our event spaces, rental fees and services, as well as our policies.
Please note: While the Forum building itself is currently closed to the public due to the Covid-19 pandemic, we remain open to requests from Columbia affiliates for support of virtual events, hybrid events, and podcasting. We are also currently considering reservation requests from Columbia affiliates for spring 2021 in-person events, which should be submitted via the Event Management System (EMS). Those reservations will be considered tentative until the spring status of The Forum building is clear. Please visit the links below for more information, or contact us at theforum@columbia.edu with any questions. Our staff is available to consult with you as you consider The Forum for your next event.
Columbia faculty, staff and recognized student organizations: Please use Columbia University's Event Management System to request event space at The Forum.
Nonaffiliates: The Forum is not yet accepting reservations from organizations not affiliated with Columbia. Please complete this form to be notified when we open up for requests from non-Columbia affiliates.
Nonprofit organizations: The West Harlem Development Corporation (WHDC) administers applications for in-kind space requests at Columbia University, including The Forum. Please contact WHDC for more information about eligibility and the process.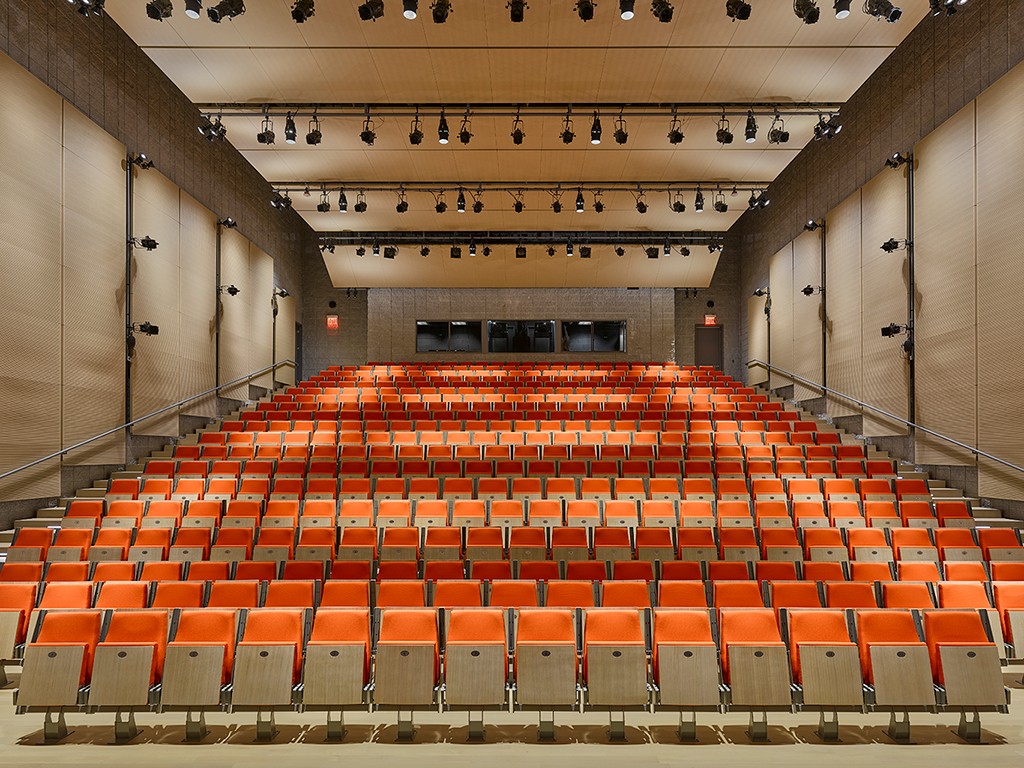 Sustainable Urban Design
A core value of The Forum and of the Manhattanville campus is environmental sustainability, which Columbia is committed to as part of its Sustainability Plan. From the building materials to the creative incorporation of natural light and air flow throughout The Forum, the result of this commitment to sustainability is an award-winning approach to maximizing energy efficiency and limiting carbon emissions. The Forum, a member of the Sustainable Leaders Network (SLN), is dedicated to implementing sustainability practices in our workplace and through our event support, to help Columbia achieve its sustainability goals. The Forum is proud to have earned Gold level certification in the SLN's Workspace Certification Program, helping to reduce the University's environmental footprint on an individual and institutional level. 
The Forum, awarded LEED Gold for its sustainable design, was designed by Renzo Piano Building Workshop, with Dattner Architects as executive architect and Caples Jefferson Architects, a certified Minority Business Enterprise, as associate architect.  The Forum was recognized by the Municipal Art Society of New York with the 2019 Best New Building Award and by AIA New York with a 2019 Merit Award for prestigious architecture.
Image Carousel with 3 slides
A carousel is a rotating set of images. Use the previous and next buttons to change the displayed slide