Image Carousel with 4 slides
A carousel is a rotating set of images. Use the previous and next buttons to change the displayed slide
A Forum for Engagement
The Forum, located on the corner of 125th Street and Broadway, is a unique community gathering space that serves as the gateway to Columbia University's developing Manhattanville campus. Open to the entire University as well as the local New York City community, The Forum is a multi-use venue that houses a state-of-the-art auditorium, meeting and event spaces, and communal work areas. 
In partnership with University faculty, staff and students, non-profit organizations, and other community groups, The Forum hosts academic lectures, conferences, performances and cultural events designed to spark conversation and civic engagement. The Forum provides an important new space where scholars and thought leaders from diverse fields can come together to share ideas, and where Columbia and the local community can engage with New York City and beyond.
Open to the Community
The Forum's ground floor Atrium is a gathering space open to the public seven days a week from 8:00 a.m. to 8:00 p.m. (except University holidays). With ample seating, tech tables for charging devices, and free WiFi, the Atrium is ideal for those needing a quiet place to work, study, or meet a friend over a cup of coffee. 
Throughout the year, The Forum joins with other Manhattanville-based Columbia departments to host Community Days, which fill the campus and The Forum with a diverse selection of family-oriented programs for Columbia neighbors. 
Meeting and Event Spaces
The Forum's upper floors feature a 430-seat auditorium, gathering spaces, and meeting rooms with state-of-the-art technology, available for a variety of uses.
For inquiries regarding space reservations at The Forum, please email theforum@columbia.edu.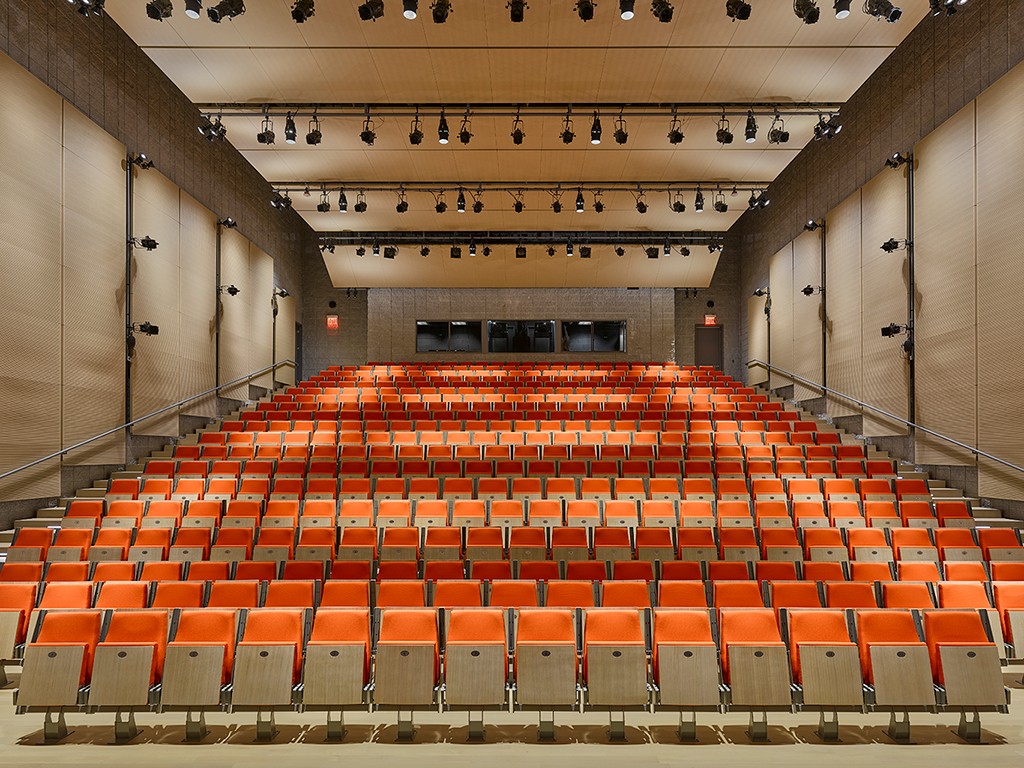 Sustainable Urban Design
A core value of The Forum and of the Manhattanville campus is environmental sustainability, which Columbia is committed to as part of its Sustainability Plan. From the building materials to the creative incorporation of natural light and air flow throughout The Forum, the result of this commitment to sustainability is an award-winning approach to maximizing energy efficiency and limiting carbon emissions. The Forum, a member of the Sustainable Leaders Network (SLN), is dedicated to implementing sustainability practices in our workplace and through our event support, to help Columbia achieve its sustainability goals. The Forum is proud to have earned Gold level certification in the SLN's Workspace Certification Program, helping to reduce the University's environmental footprint on an individual and institutional level. 
The Forum, awarded LEED Gold for its sustainable design, was designed by Renzo Piano Building Workshop, with Dattner Architects as executive architect and Caples Jefferson Architects, a certified Minority Business Enterprise, as associate architect.  The Forum was recognized by the Municipal Art Society of New York with the 2019 Best New Building Award and by AIA New York with a 2019 Merit Award for prestigious architecture.
Image Carousel with 3 slides
A carousel is a rotating set of images. Use the previous and next buttons to change the displayed slide